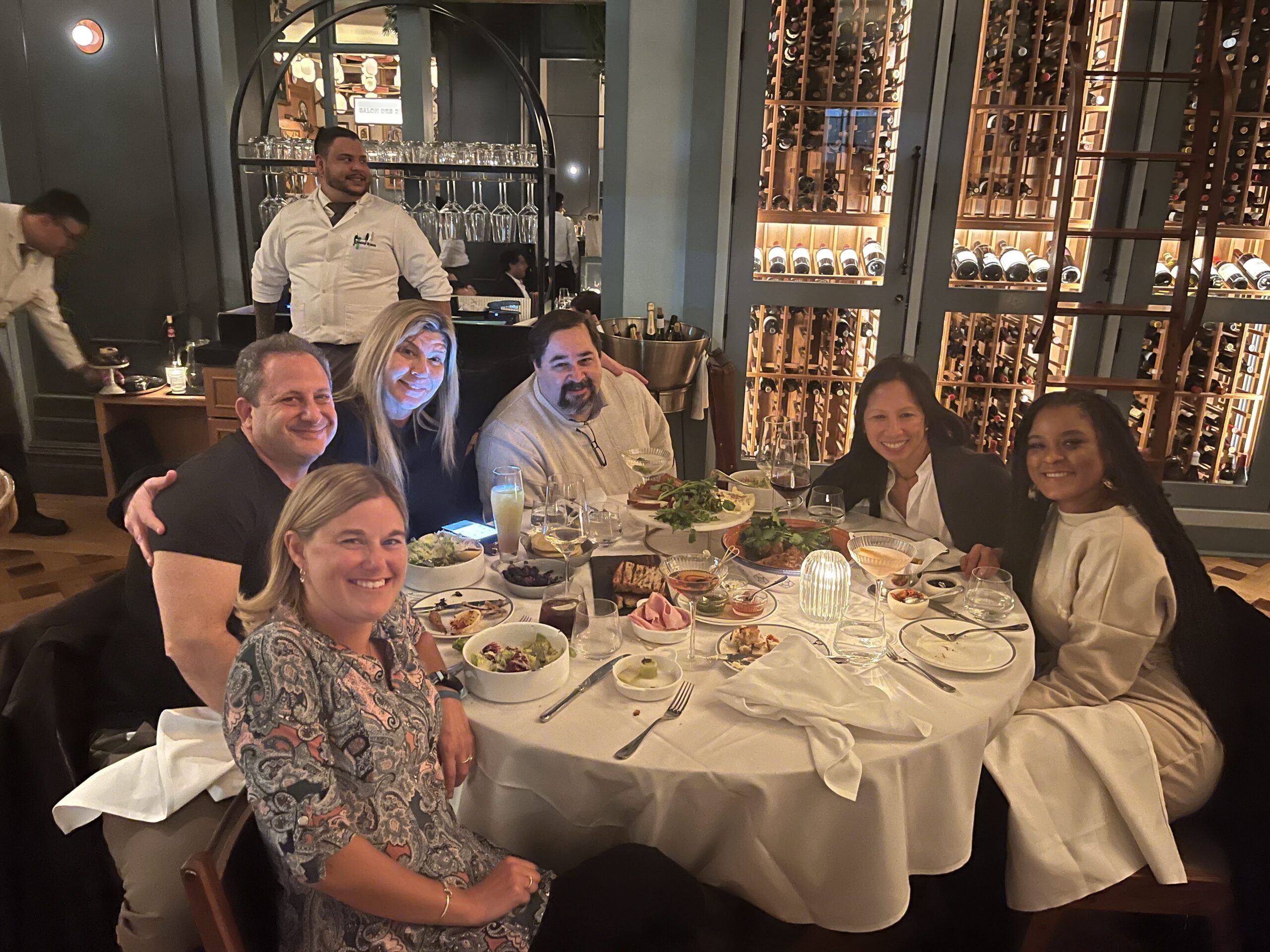 When I started at Plat4orm in January of 2020, one of my very first assignments was attending Legalweek in New York City. Legalweek is an annual industry conference for legal professionals and legal technology vendors. As a new employee, attending Legalweek was an exciting venture. Not only was this experience a chance to meet my colleagues in person for the first time, but also to meet many of our clients and industry reporters whom we work with on a daily basis. Little did I know that due to the onset of the Covid-19 pandemic, most of us would not see each other again in person until March 7, 2022: during Legalweek 2022 at the New York Midtown Hilton.
I think most attendees shared a similar experience: one of excitement, relief, and apprehension. A few questions raced through my mind: Should I wear my mask? Should we shake hands, hug, or wave? Are we really going to cram 200 people into a tiny bar for happy hour? It soon turned out the answers were: If you feel like it; All of the above; and Yes! 😁
The excitement we felt after finally seeing one another in person (after two years only through the computer) outweighed any of the concerns we shared. The conference turned out to be just what we all needed: A "back-to-normal" if you will. Some highlights for me included chatting with clients, grabbing swag at the trade show floor, having drinks with colleagues, meeting new contacts, and even managing to hit up a Broadway show. Despite the lack of sleep that accompanies any conference, I know I left feeling rejuvenated.
But don't just take it from me, here's what other members of the Plat4orm team had to say about their experience attending Legalweek 2022:
Rian Smith: This was my first time at Legalweek, so I can't compare this year's event to the previous years; however, I can say I enjoyed walking around the tradeshow floor and gaining exposure to other competitors in the legal technology space. What I enjoyed most was the ability to put faces to names of not only my coworkers, but also the many legal reporters I email weekly. Overall, I was impressed with the amount of knowledge and innovation I encountered in one building. I am grateful to have been invited to this experience. I look forward to supporting our clients at Legalweek 2023!
Valerie Chan: I've lost count of how many Legalweek shows I've attended. In the past, my Legalweek experiences were consumed with too many meetings and supporting clients at the show—it\'s typically a very, very, very long week. This particular LegalWeek was different. I've never been so excited to see my team, friends, colleagues, and clients in person.
We celebrated LegalWeek as if COVID-19 had never happened. From parties to meetings, social distancing was a thing of the past, and life was oddly back to normal. I enjoyed hearing clients talk about new technologies and how counsel used them. Also, I enjoyed learning how in-counsel counsel and law firm friends practiced in a remote setting and whether or not it was different or better than pre-COVID levels. After such a positive experience, I'm looking forward to the Plat4orm's team next conference adventure: CLOC.
Carolyn Depko: While I certainly wish I was young enough to say this was my first Legalweek, I must admit this was my twentieth-something. Dare I say it was the late 90's when I attended my first (what was then called Legaltech) conference at the New York Midtown Hilton. Although MUCH has changed in the industry since then, the benefit and power of getting together with friends, colleagues and clients – IN PERSON has not. A common theme at Legalweek was simply how happy people were to gather again and mingle, network, and share a coffee or cocktail. While new products and tools continue to launch and new companies enter or disappear from the market, the friendships and relationships built at events like Legalweek will remain.
My big take-away is that I am lucky enough to enjoy twenty five years of friendships with media and colleagues. While tradeshows are always A LOT of work, I ALWAYS leave these events feeling uplifted and more in tune and connected with the legal tech community. At the end of the day, community and relationships mean the most. Thank you Legalweek 2022 for allowing me and others to re-discover and experience that feeling again.