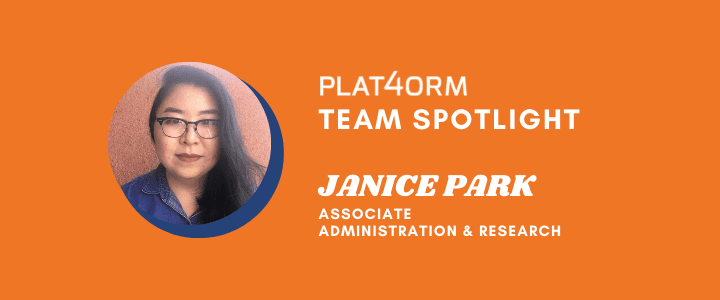 Name: Janice Park
Location: Los Angeles, CA
Role: Associate – Research and Administration
Years with Plat4orm: 5
What attracted you to Plat4orm? I come from a legal background. I was working as a paralegal in a law firm and looking at other possible career paths before applying for law school. Plat4orm interested me because I could take the knowledge and experience I had gained from working in the legal industry and put it toward a communications angle.
What aspect of your role do you enjoy the most? There's never a dull moment! Every day is a different project and challenge. It is sometimes stressful, but at least it isn't boring.
What 3 words describe you best and why? Resourceful, Geeky, Libra – I'm not big on astrology, but whenever I see an astrology meme, it seems pretty accurate.
Tell us something about yourself that would surprise us. I really like video games and am a fan of esports. Overwatch League is my favorite.
What do you like to do/go on your days off? I hike and like being outdoors. For my birthday a few months ago, I took a solo camping trip to Joshua Tree. This year, I've rekindled my love of reading, having a lot more time for it. Currently, I'm reading Fire and Blood by George R. R. Martin – it's a companion piece to the Game of Throne series about the history of the Targaryens.