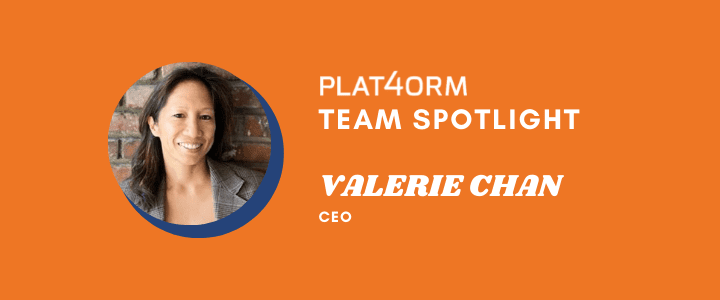 Name: Valerie Chan
Location: Los Angeles
Role: CEO
Years with Plat4orm: 11
What led you to form Plat4orm? I'm still scratching my head… 😉
Based on my prior experience, I saw the need for a different type of service than other agencies were offering. Media placements are certainly one measure of success, but there are other tactics and strategies that need to be put in place to help businesses move the needle. As a former lawyer with tech chops, I saw a need within legal tech specifically for good advice on go-to-market strategies, communications, and digital marketing. All of these things need to work together to help businesses tell their story and achieve their goals. Hence Plat4orm was born in 2010—and I'm proud to say we've been growing ever since.
What advice do you have for other entrepreneurs who are looking to start their own agencies/businesses? It's harder than it looks. Being a subject matter expert in a particular discipline with a product or service is a good start to setting up your own shop, however, if you are looking to start your own gig, learn about business and business principles, money management, and how to read a P&L. Also, understand how to build a team and what it means to be a good leader. Having a good team—advisor, lawyer and executive team—only helps.
Have you ever been skydiving? If not, would you go if you had the chance? No, I haven't. Skydiving is a bit rich for my blood. I have gone down double and triple diamond runs skiing. Maybe it's the same thing?
Where is your favorite spot to vacation and why? I have so many favorite vacation spots. My one favorite spot is the Cabo Azul in San Jose Del Cabo, Mexico. That's my happy place!
Other favorite spots are the backwoods of Italy (I was once chased by wild dogs) and Spain. The scenery is just beautiful.
What music is on your iPhone? Jennifer Thomas' Illumination album and a collection of random songs from artists that include: Betty Who, Jake Scott, Ingrid Michaelson, and Portugal. The Man.
Who is the most famous person you've ever met? I ran into Jeff Bezos hiking years ago. I am good friends with Andrew Conru. I almost ran over Michael Douglas in the parking lot of Gelson's Market.