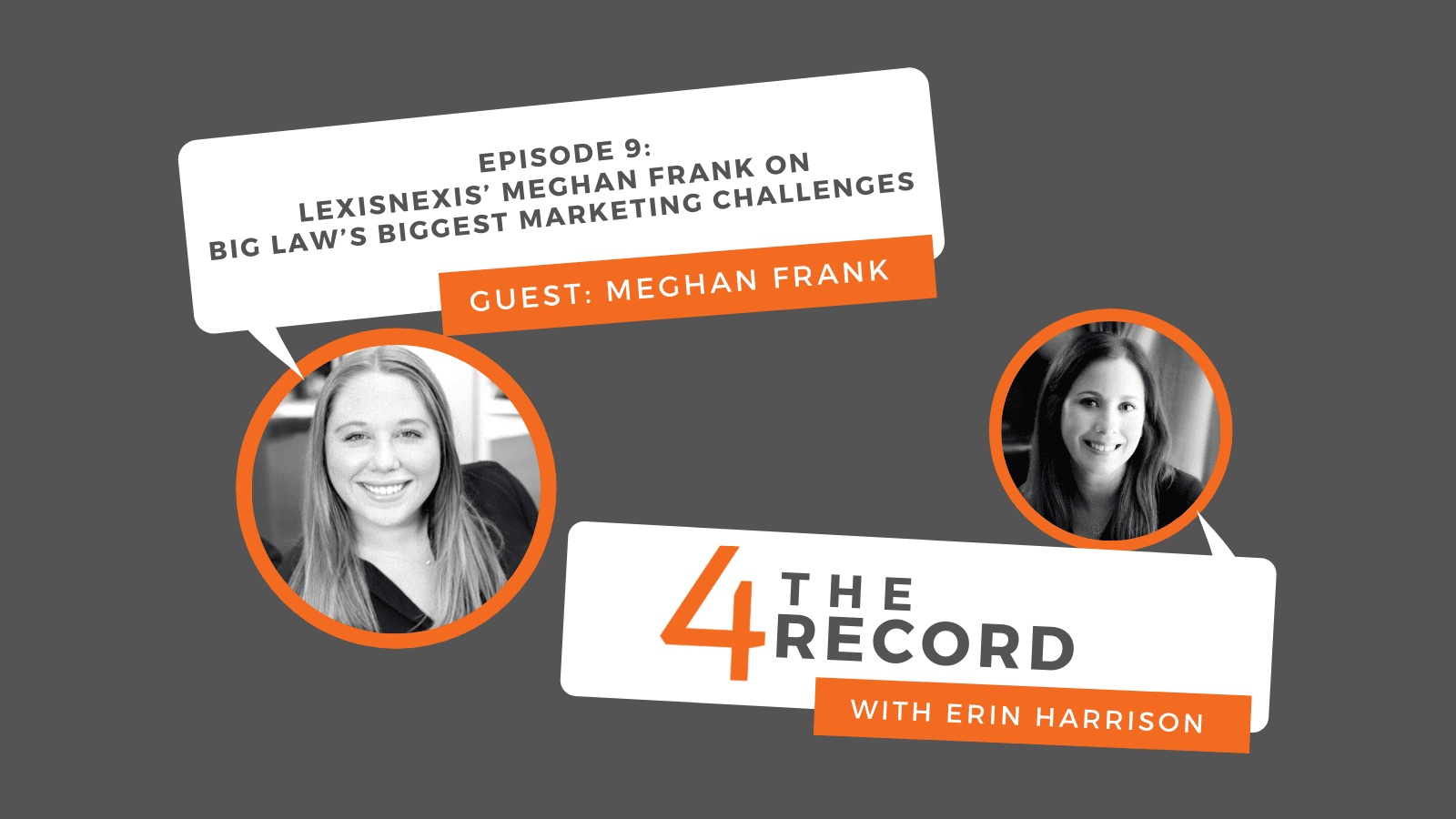 If we have learned nothing else from the past year, it's that we must be flexible and adapt. And in the words of Meghan Frank, "Adapting is Constant."
Meghan Frank is the global director of marketing in the Software Solutions Division at LexisNexis. She recently sat down with Plat4orm's Managing Director Erin Harrison for our latest episode of "4 The Record" to discuss how the global pandemic is forcing legal marketers to plan differently, create new ways to connect with clients, and adopt new business development techniques they haven't used before.
"The biggest takeaway for me in 2020 is that adapting is constant," Frank said. "I think there was this thought that we would get over the hump and we would slide into a new normal and we\'d be able to hit our stride again. But, we're finding what worked last month may not work this month."
Marketers at all companies, including in the legal space, are continuously adapting to the new normal as each month presents new challenges. Teams have learned quickly that a marketing strategy that worked one day will not necessarily work the next day. An ability to plan differently is now required — especially planning in advance for flexibility and agility in order to pivot as needed.
"Focus on what you are trying to achieve and think of different activities and tactics that ladder up to that, so if one\'s not working, you can easily move to the next and move them around like puzzle pieces," Frank said.
Frank detailed a few tactics she found worked very well and how those tactics ultimately evolved. First, she focused on building new ways to connect with her audience and deliver content digitally with strategies like webinars.
"From there, it really became about building in those informal connections that were missing in this virtual world. So, we did things like virtual wine tastings, small group coffee chats, and office hours," Frank said. "It replaced some of that networking time that you would see at individual events or onsite events that we were all missing during the pandemic."
With reputations for being siloed, slow to change, and dependent on traditional marketing strategies, COVID-10 has magnified challenges law firms have historically faced. But, by being forced to adapt and shift tactics, firms have learned new ways to succeed with their business development.
"Everyone going remote forced [law firms] to collaborate because once you really were on your own little island, you realized that you need more help and support than maybe you thought you did before," commented Frank. "We have seen people depend on marketing and business development more than ever before because they weren\'t really sure how to handle this new digital, virtual world. They knew that they had people at their disposal that could support them and champion them through what this change was going to be."
Frank detailed ways the pandemic helped law firms adapt business development and embrace the digital world:
Technology Adoption. Law firms enabled collaboration between different practice areas and between different teams by implementing tools that provided everyone at the firm access to more data.
Process Improvement. Firms built connections between the overall firm goals, the individual opportunities, and individual goals and practice area goals to ensure everyone was working towards the same objective.
Data-driven Culture. Firms are looking less at a specific dashboard or a specific report, and instead, enabling an overall culture where data is informing every interaction and decision. This includes how client interactions link to overall firm goals and incentivizing collaboration to ensure employees are tracking against firm initiatives and not individual outcomes.
She also provided examples of ways legal marketers can proactively identify new growth opportunities:
Surface insights about relationship strength or recent news within established workflows.
Understand the drivers of firm growth. Data can help pinpoint the answer, but knowing the right question is needed first.
Understand what the market is going to do in order to pull the right data to drive actions and take advantage of the market trends.
Analyze new business opportunities – why they\'re won or lost – and determine any trends (such as growing practice areas) that were never noticed before.
Continually monitor analytics. Data and analytics are key to understanding what\'s happening on an ongoing basis and adjusting business development strategies as needed.
"Partners and attorneys are turning to their marketing and business development colleagues in bigger droves because they need their expertise to navigate change," Frank concluded. "For legal and professional services firms, the main trend I think we\'re really seeing is a more holistic approach to business development and planning. Building flexibility into your marketing plans so you can test, learn and adjust is important. I don\'t think the pace of change is slowing down at all. I think we have to just learn to be okay with an agile environment."
To hear more words of wisdom from Meghan on how legal marketers should be prepared to pivot and adapt, listen to the full podcast Plat4orm's website.