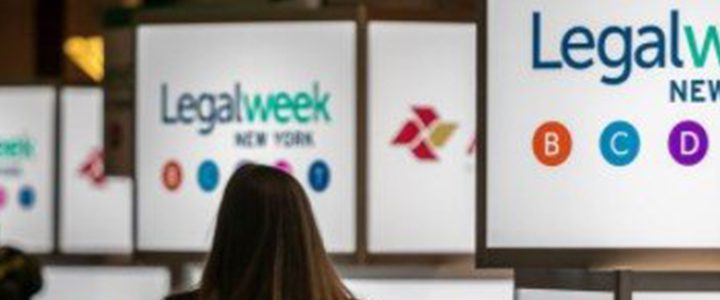 From virtual swag bags to facilitated online discussions and cyber happy hours, Legalweek will indeed feel different this year. Although it feels a bit strange to not venture into New York City this Groundhog Day, ALM has re-imagined its anchor event to engage audiences with multiple events throughout the year.
During Plat4orm's most recent 4 the Record episode, I caught up with my former colleague Zach Warren, editor-in-chief of Legaltech News, to talk about some of the ways the pandemic has changed the legal technology landscape and what we can expect from this year's multiple Legalweek (Year) events, starting with the main event in February.
For industry insiders, influencers, and tech buyers, Legalweek is one of the busiest weeks of the year. For journalists and analysts in particular, Legalweek is downright exhausting. Everyone wants some time with you. I can attest to this; it's challenging to find time to eat, let alone pee. If you know, you know.
Let's face it, this year will feel different – but we don't have to equate "different" with "bad." In fact, the format looks like past conferences, the main event is three days, and most sessions are overarching. Aside from the educational component, Legalweek is one of few pivotal industry events marketing and sales teams reserve for new product launches, client dinners, and other off-site events that help vendors build their pipeline for the year, all of which is difficult – if not impossible – to replicate in a virtual setting.
To offset some of those changes, today Legalweek (Year) kicks off the first of five virtual events designed to "tackle the changing legal landscape, and to help legal leaders restructure, rebuild, and reinvigorate today's law firms and legal departments." If I am being honest, five events is a lot to ask – but nevertheless, ambitious of ALM. In our conversation, Warren acknowledged this is a challenge, especially when the legal community is being asked to attend multiple virtual events over the year.
He explained, "It's very tough to differentiate, especially when people are used to what it is. It was difficult to differentiate when the move was made from Legaltech to Legalweek [in 2017], and what did that expansion look like when they tried adding in other conferences and things? It's kind of a needle that they're trying to thread."
If history tells us anything, it's that change is not always well received, especially in the legal industry. But ALM has being doing events for a long time and can afford to experiment a bit – so it will be interesting to see how the hyper-focused events play out, and how this format might even be a welcome change. In March, the event will focus on legal business strategies; in July, the theme will be emerging tech. ALM will also debut its Legalweek Leaders in Tech Law Awards.
In some ways, we have come full circle since Legalweek 2020 – before life as we knew it changed for all of us. And while innovation remains a focus for law firms and legal departments, the word has taken on a new meaning in 2021.
"It's actually kind of interesting looking back at this in retrospect, because even at last year's Legalweek, that was actually one of my main takeaways, before the pandemic hit," Warren shared. "It was that a lot of not only law firms and corporate legal departments, but even legal technology developers themselves, were focusing more on adoption and making sure that what people already have actually is in use across the entire enterprise, versus trying to get out their revolutionary technology or something that's going to change the game, but also requires a lot of investment in time and money from law firms and corporate legal departments."
In reflecting on the past year, I think we have learned that innovation is a state of mind rather than a destination. Legalweek's topics and sessions are evidence of that (e.g., "How to Maximize the Efficiency of Your Legal Operations with Contract Management" and "Privilege Review 2.0"). Certainly, COVID has been an accelerator in many respects; within legal, the hastening of legal tech adoption has been the major change, maybe even more than the technology itself.
Erin Harrison is Managing Director of Plat4orm. Previously, she was editor-in-chief of InsideCounsel and Legaltech News, and later, editor-in-chief of multi-platform content for ALM's global newsroom.