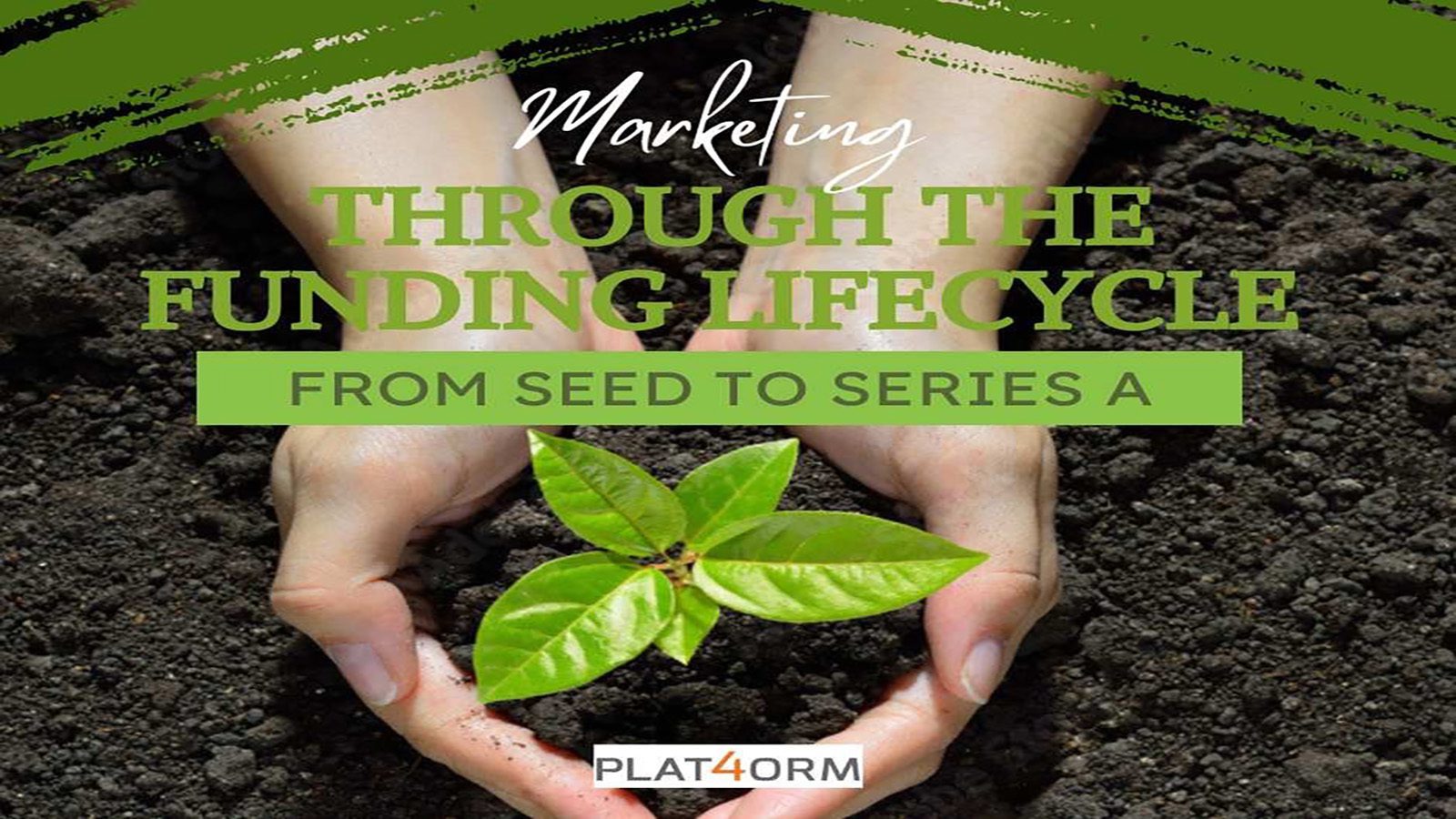 Many entrepreneurs wonder just how important marketing is as they move through the funding lifecycle. But with startup and IPO funding declining sharply over the last six months as the result of recessionary fears, your company's marketing is more important than ever to ensure that potential clients and investors can find you during all stages of the funding lifecycle. Whether you're in the Pre-Seed, Angel, Series A to B, or Growth (Series C+) stage of capitalization – or even a long-awaited liquidity event – Plat4orm can help you navigate the marketing landscape.
Does marketing matter in the early stages of a company's development? And if so, which marketing tactics work best at each stage for a company with limited experience and resources?
Think about this in the context of success-failure ratios: 9 out of 10 startups fail. So, what's special about the ones that succeed?
The answer is multi-faceted, but one of the key reasons startups succeed is the wise use of founders' marketing resources. After all, marketing is probably the most efficient way to shape potential buyers' perceptions – especially those who aren't familiar with your brand. Savvy marketing helps introduce your product or service to the world, lets everyone know what your mission is, and allows you to connect with your target audience and begin building brand loyalty.
WHEN SHOULD I START THINKING ABOUT MARKETING?
As soon as your technology, product, or service is in place you're ready to think about marketing. While you're still in the early stages of development, start small and leverage this time to refine your brand and voice. If you've already established your business and realize you need to boost your marketing efforts, carve out time to consider how you want to reach your audience and what methods might work best for you.
A great place to start is with creating the company logo. It's an essential foundational step; it encapsulates your image, and the time and work that goes into this effort sets the tone for all branding to come.
WHAT ARE THE BASICS OF MARKETING?
It's critical to start with an understanding of the marketing basics – demand generation, brand building, and public relations. Each one is important for the marketing equation:
Brand building creates awareness and promotes your product or service – advertising, SEO, SEM, paid and organic social media, or events and webinars are all solid approaches organizations use to build their brands.
Demand generation is an activity that drives interest and excitement in your product or service. It typically includes giving away free samples, offering discounts, launching direct email campaigns, content marketing, and affiliate marketing.
Public relations helps you reach people to influence their perceptions about your product or service through earned media opportunities. Issuing press releases, talking with news outlets, TV, radio and podcast hosts, and meeting with analysts are great ways to get more eyes on your brand. Using tools such as market research and competitor analysis can help you zero in on your target audience to focus your efforts on outlets that appeal directly to that sector.
Once you get the marketing basics down, you should hone your strategy; start by prioritizing the marketing methods you want to use in each stage of business growth. Answering a few key questions and themes can help you pinpoint the right steps for your organization throughout the funding lifecycle.
WHAT'S THE RIGHT MARKETING MIX TO REACH MY COMPANY'S GOALS?
Have a clear understanding of the goals for your company at this stage – product development, customer acquisition, due diligence prior to product development, brand awareness, and so on. Will you be pursuing funding right away, or do you want to build your company before you look for outside equity?
Then you'll need to assess your situation and, depending on where you are in the growth cycle, apply different tactics at different times while staying mindful of your budget. To make sure you're focused on the right priorities, always keep the four Ps top of mind; Product, Price, Promotion, and Place.
When searching for the right marketing mix, consider how your audience will perceive it. Is your product extremely visual? A social media, influencer, TV, or digital advertising campaign could be the right approach to get eyes on it. If it's a service or a technology, a combination of webinars, events, B2B media, or analyst road shows might work better to reach your target audience.
AS A START-UP, WHAT MARKETING TACTICS SHOULD WE PRIORITIZE?
In the current economic climate, the top five marketing tactics to help your business grow should include:
Search Engine Optimization (SEO) – Drive organic traffic from search engines, like Google, by optimizing your website and content.
Influencer Marketing – Collaborate with a credible, well-known influencer who aligns closely to your mission to raise both visibility and brand trust.
PR and Affiliate Marketing – Tell the right story and create messaging that resonates with your target audience and make sure it appears where your customers are.
Email Marketing – Stay top of mind with prospects and current customers by regularly sharing news, product updates, and content.
Social Media Marketing – Engage with your audience with authentic posts that are tailored for each platform.
Test your message with qualitative surveys to determine what drives the most leads and sales. Do customers know what your product does? Are you using language they understand and respond to positively? While testing can be one of the more expensive parts of setting up your marketing function, it's critical to get an accurate sense of broader market perceptions. It might cost you upfront, but the testing payoff is saving money in the long run.
Marketing is always evolving, continue to refine your messaging and collateral as your business grows and as the industry changes. And make sure you save all your past messaging and collateral so you're not starting from scratch. This might sound like a no-brainer, but more than once we've worked with companies who lost or misplaced marketing materials.
HOW DO I KNOW IF MY MARKETING PEOPLE ARE RIGHT FOR MY BUSINESS? WHAT SHOULD I LOOK FOR?
In many start-ups, people wear multiple hats. Look for people who can optimize a limited budget and who know how to roll up their sleeves and get stuff done.
But startups can always benefit from expertise; you can gain valuable insight from joining your local chamber of commerce or a marketing organization that mentors entrepreneurs, such as the Small Business Association or TIE Global Network. Local community colleges offer practical marketing classes for business owners that can help you map out your marketing plan.
Following that map will require you to be nimble; the one constant in business is evolution. But when you're trying to grow your business, increase your audience reach, meet your sales targets, and attract funding, understanding the latest marketing trends and dynamics or overcoming branding roadblocks can be a challenging order. Which is why Plat4orm is here – to smooth and support your marketing journey and help make each step of the funding lifecycle a growth event for your company.
At every capitalization stage, you'll need a strong, transformational partner who understands not just your goals and marketing needs but also how to get you there. Plat4orm can help you meet all your marketing challenges with clear direction, innovation, and a deep understanding of your purpose – and help drive your customers to you. For more information visit us at www.plat4orm.com.