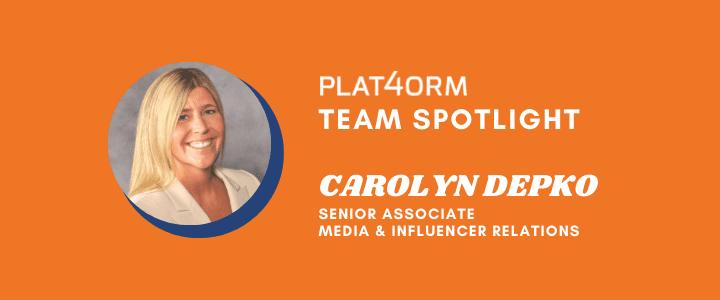 Name: Carolyn Depko
Location: New Jersey
Role: Senior Associate – Media Relations
Years with Plat4orm: 7
What brought/attracted you to Plat4orm? I have been in the legal technology market for nearly 24 years. When I became part of the Plat4orm team I was excited to join a group of public relations and marketing professionals that had reach and expertise outside of legal. It's never too late to learn new tools and advance your skills – and I knew Plat4orm would give me that opportunity.
What aspect of your role do you enjoy the most? Interacting with my clients and the media. Plat4orm has many long-term clients and it has been wonderful to get to know them professionally and personally over the years. And the same can be said for the editors, bloggers and consultants we work with – many of whom have been in this industry as long as – if not longer – than I have. I enjoy bringing a personal touch (and some humor) to my work and I think that's appreciated.
What was the most unusual or interesting job you've ever had? I was a lifeguard at a private swim club when I was in high school and it was the perfect job. I got a nice tan and never had to work after dark – that's important when you want to hang out with your friends every night. Interestingly enough, I wasn't the best swimmer but there's an advantage to being tall. You can stand anywhere in the pool – except the diving tank, but it wasn't very big so I'm sure I could make a save if I had to.
If you had to eat one meal, every day for the rest of your life, what would it be? Seafood.
Tell us a little bit about your family. My husband (a teacher) and I have 2 children – a boy and a girl. I have parents and siblings I adore (and couldn't live without), and a wonderful extended family (many of whom are Polish and/or Hungarian) that I cherish.
What children's /cartoon character can you relate with most? And why? Snoopy because he's funny and loyal.
What is the one thing you can't live without? Laughter.