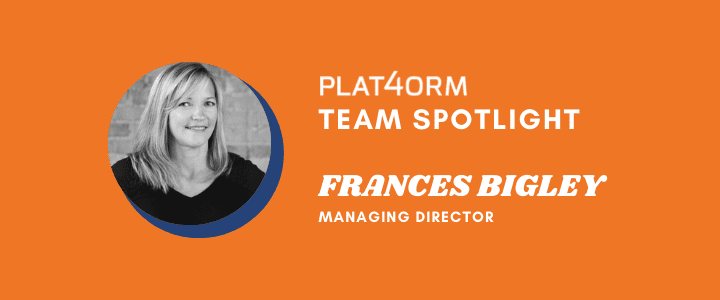 Name: Frances Bigley
Location: Seattle
Role: Managing Director
Years with Plat4orm: 1.5
What aspect of your role do you enjoy the most? I really enjoy B2B technology and working with smart clients who are breaking new ground either with their technology or the business model they are using to disrupt the industries they are in. It is very fulfilling for me to pitch reporters and land our clients great stories in the media.
What is your proudest professional accomplishment/moment? I worked with New York Times writer John Markoff to land a story on shift from paper-based legal discovery to eDiscovery.
What is your favorite book? The Four Agreements
If you were stuck on an island what three things would you bring? Pizza, a solar powered energy source and a radio.
What is on your bucket list? Three of my top items are to travel to South America & Italy, go to Wimbledon and wear a fancy hat, and learn how to scuba dive.
Where is your favorite vacation spot or activity? I love to just relax on vacation, so there's nothing better than laying in the sun on a beach with a tropical drink.