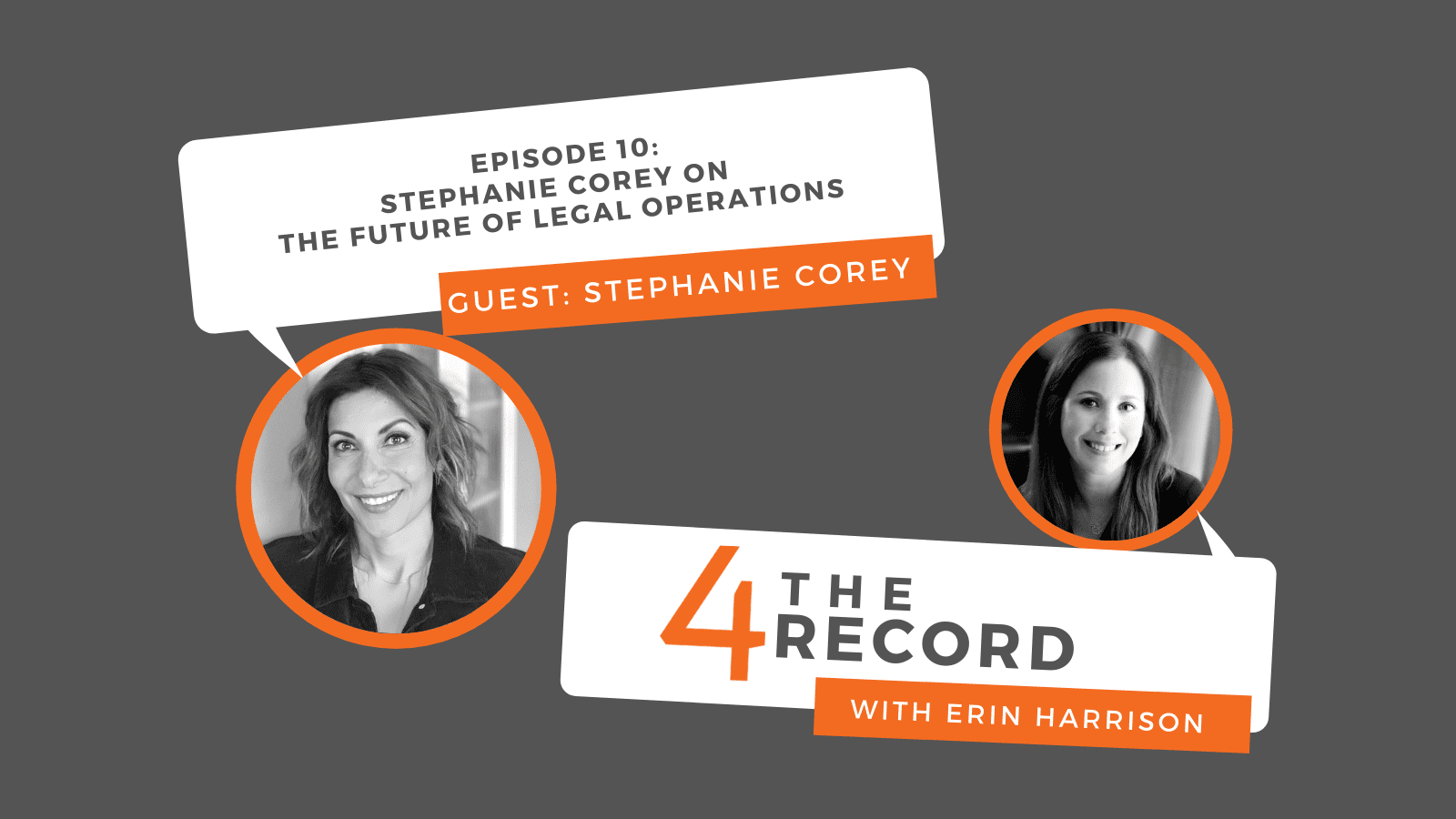 If you weren't familiar with the term "legal ops" before 2020, you likely are now. As the world shifted during COVID-19, law firms and corporate legal departments were forced to allocate more time and energy than ever to the business side of law in order to set up remote working infrastructures. The unsung heroes of this shift? The legal operations teams you didn't know you needed.
In Plat4orm's latest 4 The Record podcast, our Managing Director Erin Harrison chatted with Stephanie Corey, co-founder of UpLevel Ops, about the evolution of legal ops over the last five years. Corey, who was a pioneer in carving out operations as an integral, respected job role in legal organizations, discussed the confluence of factors that took place to lend more credibility to the discipline. These factors included the emergence of enhanced legal technology that is more accessible and inexpensive, the adoption of curricula by law schools to teach new lawyers about how to run the business side of law, and the growing trend in corporations demanding more accountability from general counsel to reduce inefficiencies and manage spending within the department.
"I think all of that together has really changed the environment and made GCs more willing to bring this resource on board," Corey said. "Before, where you saw people really thinking of [legal ops] as a kind of a glorified admin role as it was early on, it's seen now as not a 'nice to have,' but a 'must have'…So I think that the whole model has changed for the better."
While adoption of legal ops was already a recognizable trend before the pandemic hit, the true catalyst was COVID-19. People stayed home to work, but problems arose quickly: Employees encountered barriers in accessing files, using shared drives and participating in collaborative sessions. The legal industry had to digitize – and fast. Almost overnight, GCs realized the time to automate and move to the cloud was now, yet not all firms had the infrastructure and experienced operations teams in place to do so effectively
"I\'ve heard so many GCs this year say to me, 'We need to bring our legal department into the [21st] century,'" Corey said. That is exactly what happened. Firms trimmed the fat and invested in technology they were previously hesitant about. They also realized the significance of having internal staff who understood the business of law – people who could talk to IT, compliance and development professionals to orchestrate operational efficiencies.
"Innovation can come in any forms," Corey explained. "It's really just finding a different and better way of doing things. And so sometimes it's a process improvement. Sometimes it's working with different types of people. I think something that is very innovative is having other types of professionals within legal departments, rather than just lawyers."
However, Corey cautions that innovation is not synonymous with technology. While technology often plays a key role in innovation, automatically turning to tech as the answer is actually putting the cart before the horse. This is particularly important to remember in 2021 as we witness an explosion of legal technology providers. Many tech vendors are quite good, and there are plenty of smart tools coming to market that are truly indicative of next-generation thinking. But that doesn't mean the same tool will work for every firm or legal department.
Corey says legal tech providers must always speak to how their solution will address specific pain points that are unique to the organization.
"Legal departments – I don\'t know if this is me as a finance person by training who is now a legal professional – and attorneys, all of the people that I work with, we're not super creative thinkers in terms of we cannot visualize what your tool can do for us," Corey said. "You need to make that obvious."
So, what's next for the legal industry as the world slowly recovers from the pandemic?
Certainly, legal ops is here to stay. We'll likely see more and more professionals choose to focus on the business of law side rather than litigation. And the legal tech space will remain crowded, at least for now. Corey believes that with a new hybrid working model in place, GCs will have to take a closer look at organizational design as priorities shift – reconsidering the proper mix of outsourcing and in-house work, for example, or revamping employee development programs to reflect the new reality. As they tackle these and other challenges, organizations will increasingly lean on operations professionals to guide them.
"The GC is the 'what,' and the legal ops professional is the 'how,'" she said. "I think having a really good ops person in place…who understands what the plan is and executing on that plan is [critical]. If you do that year one, year two, year three, you\'re going to see massive changes in your department."