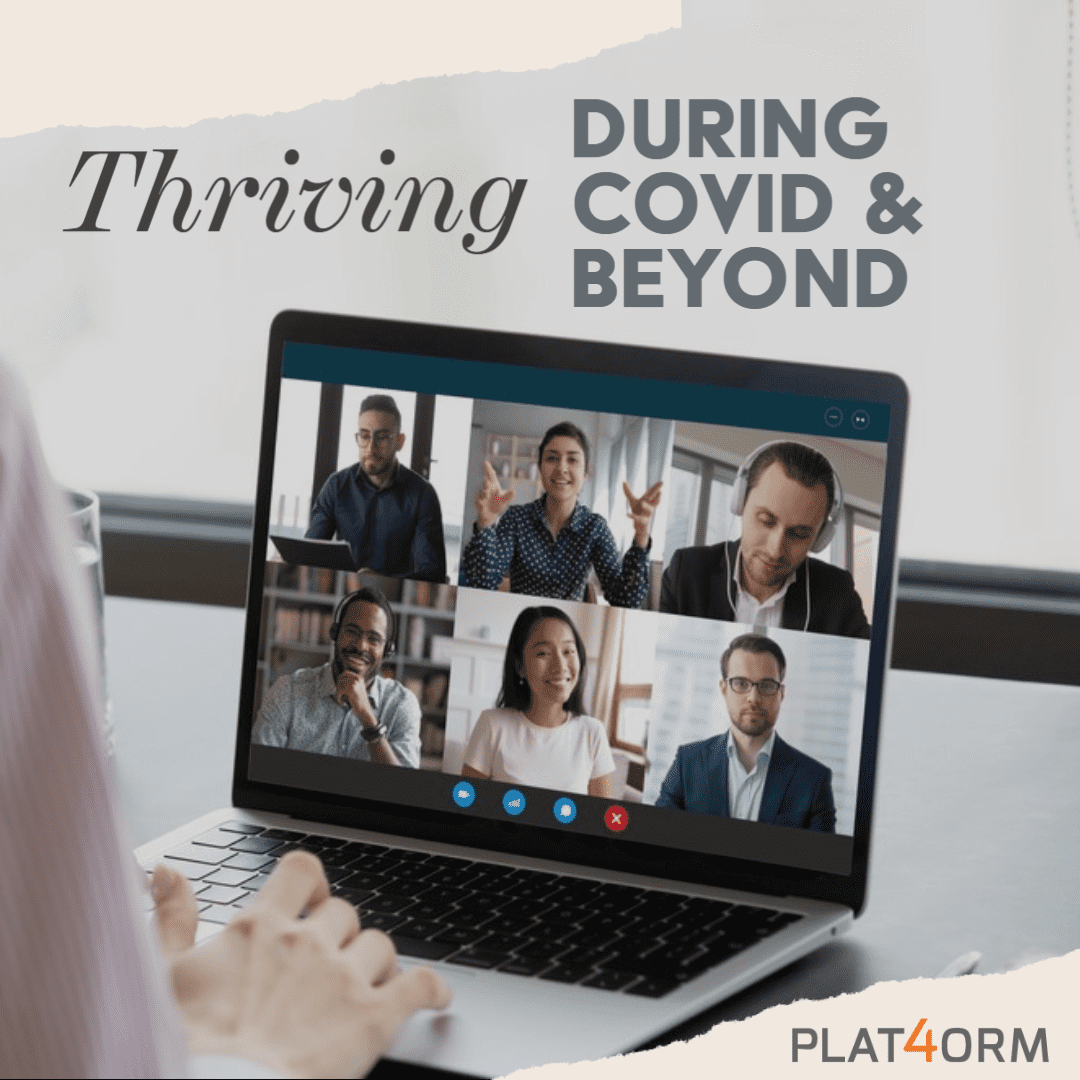 As part of my role as CEO of a growing boutique PR agency, I regularly offer commentary on news, trends and insights that are designed to help our clients, like legal, privacy or security trends, or M&A activity happening around the technology or legal industry. But because it is becoming increasingly challenging to guide businesses during times of uncertainty, I want to share our success story – how Plat4orm thrived during COVID, lessons we learned along the way and how we are preparing for continued growth.
Plat4orm's COVID Journey
Amid the regular challenges of growing and maintaining a business and company culture, the COVID-induced lockdowns and travel restrictions, along with widespread cancellations of events and meetings, certainly have made the last few years particularly challenging. And I would be lying to say Plat4orm was not affected by the "great resignation," particularly as the pandemic led our team members to reconsider what they valued most about their jobs, the challenges they wanted to take on and the people they wanted to become. It's fair to say every employee at Plat4orm spent time reflecting on their mental and physical health and gained a new perspective on their path forward.
Just like many small businesses and organizations, our staff worked extra hard and put in long hours in 2020 to ensure that the business grew, clients were satisfied, and staff were not only retained but given raises or bonuses when possible. By the second half of 2021 we stabilized and focused on finding a balance between work and health. Jump forward to 2022, and we're increasingly focused on employee health and wellness through enhanced healthcare benefits, mandatory "mental health" days, more paid holidays and half-days off on summer Fridays. We also brought the entire staff together for a three-day in-person team-building retreat.
In terms of our day-to-day business, we broadened our services to play to the strengths of our team members by bringing on a mixture of marketing, branding and content-focused engagements in addition to our standard public and media relations projects. Diversification of clients and industries was also an emphasis. We added compliance, privacy, security, PE firms and other technology organizations to our traditional legal technology client base. Another key tactic was ensuring the new clients we took on were healthy financially—they were either self-funded with ample resources, VC-funded beyond a certain series round, or had healthy PE funding and a growth trajectory in a stable market.
Our Learnings and Takeaways
What helped Plat4orm thrive during these critical and uncertain times? Here are a few tips we learned that will help your company thrive in the upcoming turbulent economy.
Provide unparalleled client service and strategic advice:

Top-notch client service – ensuring your clients are being well taken care of and thinking three steps ahead of them – is important. That "golden touch" may seem like a clich

é

, but it works. Be honest with your clients regarding their ideas, concepts or plans. If you think something isn't going to work, say so. People pay for your strategic advice and counsel.

Deliver the right message to the right audience:

Now

more than ever in a crowded market it's important to differentiate and hone your value proposition to distance yourself from the competition. Know your audience – inside and out. What are their pain points? How can you be a valued partner with your product or service? How can you provide value for the services or products you offer? Answering these questions will help you tailor your messages to attract the right customers.
Diversify your client base:

For us, getting back to our tech roots – working with alternative assets, information management and infrastructure technology in addition to legal, security and compliance clients – was essential to see the larger picture for our organization. Being able to diversify your client base is a great way to keep current on industry trends and capitalize on them.

Find and keep the right internal team:

They say that staff don't quit their work, they quit their leaders. That's always a hard pill to swallow, but I think our organization is better because of the feedback we received from departing employees who self-reflected and determined what was important to them. When you're a small business you're more like a family, and it's crucial to have the right team members. Certainly they need to have the capabilities and skills to handle the work, but they also need to be aligned with Plat4orm's vision, mission and values to collectively move the business forward. During our recent retreat we discussed what we feel are key attributes for team members to have and came up with the following: driven, proactive, adaptable, respectful and confident, among others. They also need a sense of humor. Ensuring your values come across during interviews and annual reviews is important; if an employee's internal "drive" isn't aligned with leadership or the company, you could be headed for disaster. Related to finding the right team is keeping them. If staff don't feel fulfilled or valued, there are more reasons to leave. Providing challenging assignments, asking their opinions on strategy, congratulating them in front of the whole company, sending coffee gift cards and offering additional benefits are all ways to keep your employees engaged and employed.

Engage partners:

Having the right external partners to turn to for help in guiding the organization or providing financial or operations advice was essential to our organization's growth during the pandemic. In addition to finding the right internal team, we found that working with partners who can help you drive toward your goal is essential. Your partners should complement your business goals and add value. Regularly assess whether your partners are performing. This means not just monitoring their KPIs, but also determining whether they are moving you toward your goal. Are they providing real value that you can utilize to help you thrive?

Evaluate

results:

In this recession-minded environment, results matter. It's no longer whether or not you like someone – it's about whether or not they are helping you grow the business and meet the desired business goals. Regular reevaluation is key to success. Whether it's an employee, client or partner, it's okay to part ways if they are more of a hindrance than a help.
Looking Forward
By focusing more on our company culture and staff morale, Plat4orm has been fortunate to thrive during difficult times. But we also understand the reality and uncertainty that may lie ahead as our country faces a potential recession. It's critical for all businesses to focus on being buttoned-up, with steady financials and a solid client base that moves you forward. It's also wise to have an acquisition strategy in the back of your mind, either to acquire or be acquired. (That's a larger topic for another blog post, but all organizations should be thinking ahead, because you never know what opportunities or challenges await.) Following the steps outlined above has positioned Plat4orm to continue growing over the next few years, and we hope our advice proves profitable for your company as well.