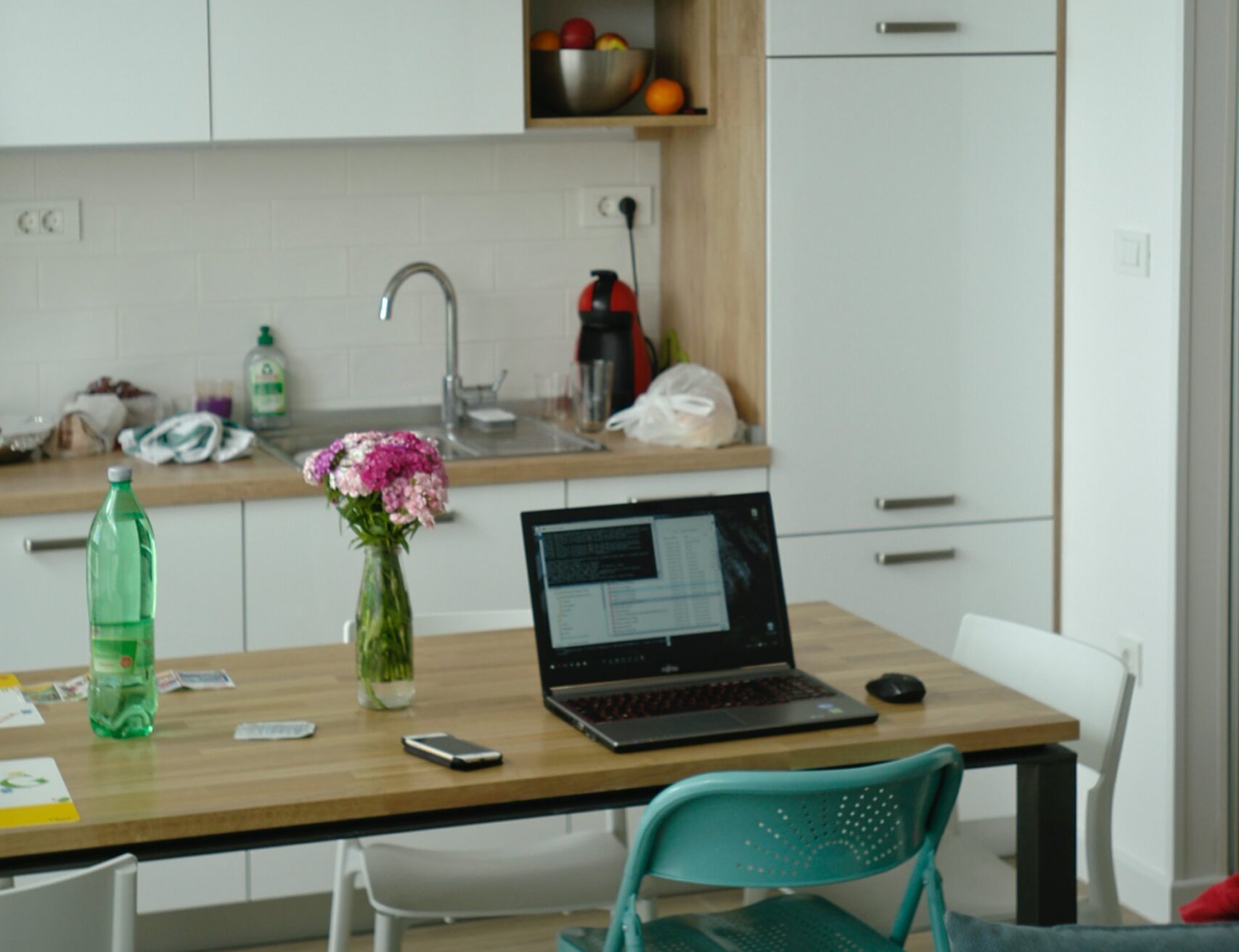 A few years back, long before Covid-19 and the entire world went remote, my husband and I decided to quit the corporate 9-to-5 world that forced us to spend hours commuting and find jobs we could do virtually. Our goal was to spend more time together and travel more often. At the time, we'd both lost family members and friends, far too young, who never got to see retirement and experience the places they'd often talked about visiting. Our traditional jobs gave us limited vacation time. It made us rethink.
We knew that virtual jobs would provide flexibility to move around the country, to hike in national parks or visit the world's largest ball of twine exhibits while we were still healthy enough to enjoy them. We also have family members we don't see often enough because they're scattered about the country. We wanted to visit them before it was too late.
After what felt like an exhaustive search, I discovered Plat4orm, a digital agency that embodies and supports my vision of what work should look like – the ability to do your job from (almost) anywhere. At Plat4orm, we believe that talent and creativity doesn't have to be confined within the same four walls throughout your entire career, and that spending breakfast and dinner with your kids is far more important than spending three hours a day on the commuter train.
Everyone here understands the opportunities, the ability to tap into out-of-the-norm talent pools, and the positive employee morale that comes from enabling people to work from home or at a location of their choosing. We also understand that a remote environment isn't perfect: challenges can and will arise now and then.
Based on our team's decades of experience of working remotely, we've come up with a list of some of the major pros and cons of working in a virtual business environment.
BENEFITS
Ability to work from unique places: Want to take your RV and visit the Grand Canyon? Have fun! Need to take care of a relative out of state and live at their house for a while? No problem! Sick of snow and decide to relocate from the Midwest to Florida for the winter? Enjoy the sun! We've had team members spend time in London, Seattle, Los Angeles, the Outer Banks, on a boat and many other places besides their house because we know we can be productive anywhere. My colleague Danielle explained it this way: "Flexibility is the name of the game these days. If I want to rent an Airbnb and work in the Adirondacks, I can. If I want to visit my parents on Long Island and work there, I can. Huge benefit!" For our new director David, just being able to work outside is a morale booster: "Nothing beats working on your laptop while sitting next to the pool and enjoying iced tea!"
Personal and family time (no commute!): Not spending hours commuting provides us all with more time to hit the gym (or the snooze button!), practice yoga, fit in a run after work or walk the dog at lunch. It also allows us to handle small personal issues or family needs during the day, cook a real dinner or make it to a child's baseball game or a spouse's company picnic because we're not stuck at the office or in traffic. My co-worker Eric put it best: "When I worked in midtown Manhattan, I would lose three to four hours a day in transit door-to-door. During those many hours I could not effectively do much of anything other than read, listen to music or sleep. Working from home allows me to recapture that time and put it to better use, whether it's for my clients, my family or myself."
Geographic diversity: Our commitment to remote working allows our company to attract talent without geographic restrictions. Our coworkers hail from many states and beyond the US to the UK and elsewhere in Europe. No one has to relocate to join Plat4orm; we come to the agency with different life perspectives and we have the ability to service clients more efficiently since we have team members working across multiple time zones. Slack, email and other online tools allow us to communicate around the world every day.
Creativity: We are in the business of "Aha!" moments. Yes, there's an underlying structure, but much of our USP at Plat4orm lies in our ability to develop innovative ideas for our clients. It doesn't always come when we are sitting at our desks. Sometimes it takes a walk, a donut binge or a few hours playing with the kids. Sometimes it's a matter of bouncing ideas off a partner, a housemate or a sibling you live with. Knowing that we have the freedom to give our subconscious the time and space to do its job helps keep the creative spark alive.
CHALLENGES
Burnout from blurred work-life space: Everyone agrees that the number one disadvantage of remote work is the temptation to blur the lines between work and home. When you're only a few steps from your kitchen it's too easy to "do one more thing" before shutting down for the night. How do you resist that urge to continuously check email after hours when you're working across multiple time zones? Or you don't force yourself to get up regularly during the day to stretch, get your steps in, or even take a proper lunch break. Sometimes it can feel like the workday is never over. As Janice put it, "In an office, you can go to the break room or step outside for breaks and meals because that's what everyone else does. When you work from home, it's difficult to delineate between a work and break space. For me, this led to feeling more tired at the end of the day, and at first my productivity suffered. I learned early on that I need to take the time to get up and get away from my desk every few hours to stay refreshed."
Technical challenges: One absolute requirement of remote work is good internet and cell service. With no dedicated IT person down the hall to call, we all have to up our technical game so we can troubleshoot when issues arise – when the internet slows down, or a video call is dropped or your computer wants to perform security updates right before a big meeting. Our team also discovered that sharing the network with multiple family members – or sometimes even with neighbors – can cause headaches, so you have to work around those issues to find the best solution for everyone.
Video calls: Prior to the pandemic, almost all our business conversations were conducted via good old fashioned phone conversations. Video was a rarity. But now, with the increased adoption of video-based collaboration platforms, it seems everyone wants to be on video. Not only does video make people self-conscious about our clothes, hair, backgrounds, but it leads to worrying about distractions such as pets or other family members walking through the room, or the dreaded "Your Internet Connection is Unstable" message. The majority of the Plat4orm team misses the days when a phone call was just a phone call. Even our CEO Val agrees: "I really dislike Zoom calls where I have to be on camera. I definitely prefer picking up the phone."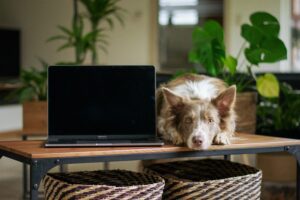 AND FINALLY, OUR PETS
Most of us at Plat4orm have pets, and we're split pretty evenly between dogs and cats. I think it's fair to say that pets are both a benefit and a challenge when working remotely. They provide a source of comfort, an excuse to get out for a walk, or someone to talk to when you're home alone. I know I've spent many workdays with my cat curled up next to my laptop. But they also can be a distraction – walking around, barking during a Zoom call or demanding attention while you're trying to get something done. Janice mentioned that one of her cats will run over when the phone rings and meow as if she has something to contribute to the conversation. We have all had to learn how to balance the cuteness factor with delivering a professional service. (The dogs and cats are still working on it.)
FREEDOM TO CHOOSE HOW YOU WORK
All in all, I think everyone at Plat4orm would agree that the benefits of working remotely far outweigh any challenges that may arise. For me, that's spending the summer staying with friends in Minnesota, exploring a state I'd never been to. For others, it means being home to hear how their son's day at school was and reading him a bedtime story.
Working virtually puts choice and control into our hands. Knowing we can shape our own work pattern while delivering results we're proud of – as well as getting the kids to school on time – is a powerful psychological boost. I'm proud to work for a company that truly "gets it" and provides us the flexibility to do our best work wherever we may be.