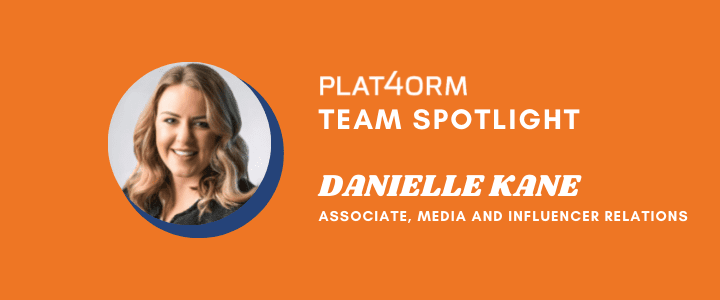 Name: Danielle Kane
Location: New York
Role: Associate, Media and Influencer Relations
Years with Plat4orm: One
What brought you to Plat4orm? What aspect of your role do you enjoy the most? I was interested in Plat4orm because of the agency's emphasis on B2B PR. As a former B2B journalist, I thought it would be a pretty seamless transition. I've been mostly right! There are two parts of the job I enjoy most. The first is working remote permanently. I'm a big fan. The second is getting to see how the work we do for our clients moves the needle for them and impacts their brand.
What three words best describe you? Extroverted, Organized, Empathetic
Tell us a little bit about your family Right now, it's just my partner and I. But beyond my life with him, I come from a family of four and am very close with my younger brother. I have a huge extended family. I've lost count but I have close to 30-40 cousins. You should see what the house looks like during our Christmas Eve gathering…
What music is on your phone? My favorite genre is rock and its respective subcategories. I love classic rock like The Eagles; 2000s rock like Blink 182; hard rock like Rob Zombie; and today's newer artists like Machine Gun Kelly. There is some country and softer genres mixed in there, too!
If you could interview one person (dead or alive) who would it be? That's really hard. I don't think I could narrow it down but probably one of the greats from the American Literary Cannon – Ray Bradbury, F. Scott Fitzgerald, Lee Harper, Washington Irving, or Edgar Allen Poe, to name a few.
What do you like to do in your spare time? Workout, read new books, and watch horror movies.