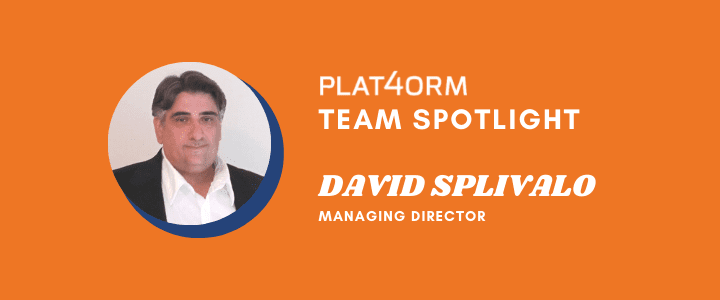 Name: David Splivalo
Location: San Francisco Bay Area
Role: Managing Director
Years with Plat4orm: 5 months
What brought you to Plat4orm? What aspect of your role do you enjoy the most? I've been immersed in the high-tech agency PR business since the .com boom when I landed my first job at a well-known Silicon Valley firm and ran my own boutique PR agency for 13 years so Plat4orm was a natural fit for my experience and skill set. As a Managing Director at Plat4orm the role I enjoy most is being a coach to my colleagues and striving to improve operational and account processes so we can provide optimum results for our clients.
What was the most unusual or interesting job you've ever had? During my college years I was in between jobs and needed some income to pay bills so I landed a part-time job at McDonalds as a shift supervisor. McDonalds intrigued me as my investment in the company's stock paid for my entire college education and thought I could potentially make a career of it. I now have a much greater appreciation for the workers who prepare the French Fries as it's one of the most underappreciated "jobs" at any fast-food venue. Wearing a tie while preparing hundreds of orders of French Fries (hint: salt, heat lamps, and deep fryers aren't a good combination) during a two-hour lunch rush is a thankless task.
If you could witness any historical event, what would you want to see and why? If I could go back in time, I would have enjoyed witnessing the first State of the Union address given by President Washington on January 8, 1790. To me, that speech symbolized a culmination of hard work and sacrifices so many Americans gave to create not only our great nation, but also the government that is entrusted to operate it.
What do you like to do in your spare time? I really enjoy taking spirited drives on roads less traveled. The open road has always fascinated me and is also therapeutic. Driving with the windows down and a good tune playing in the background, I'm able to clear my head while enjoying the scenery.
Tell us something about yourself that would surprise us. I can play an acoustic guitar. Many summer times ago my mother asked me what hobby I'd like to undertake, and I picked guitar playing. She bought me a guitar and then I was off taking a summer school class on "Guitar 101." I became so good that I began writing my own songs.
What one food do you wish had zero calories? Lasagna. If it could taste just the same as the original, I would definitely try some.