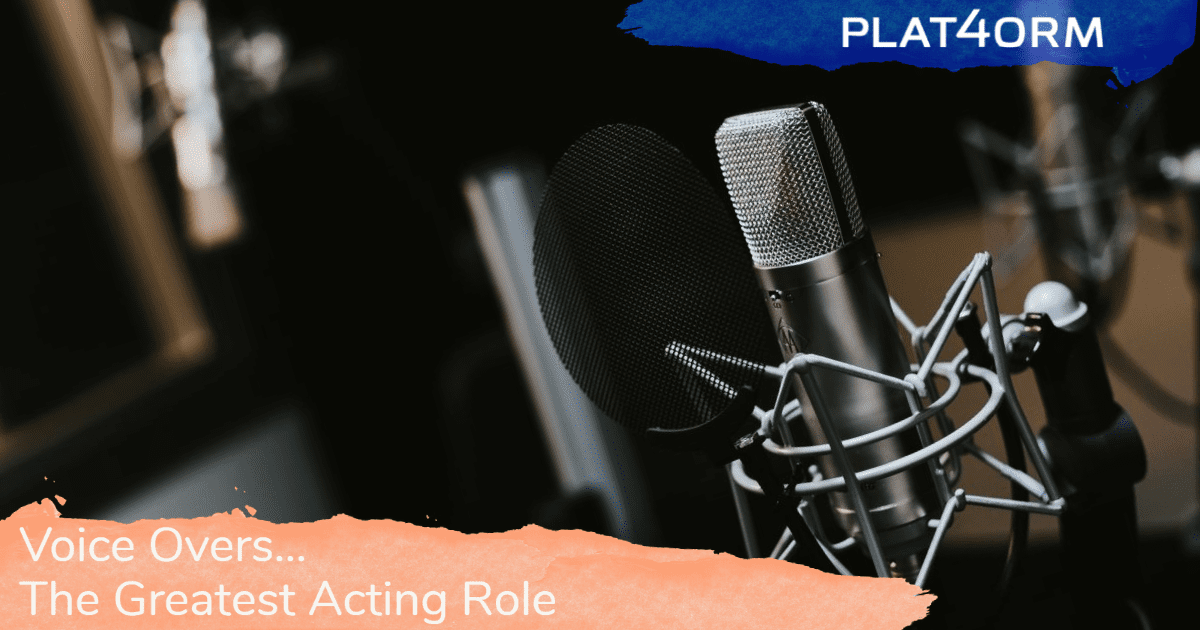 As a teenager, extremely awkward and boldly into anime, I had the lifelong dream of voicing a character myself one day. I've been complimented on my voice all my life – by customers at my first fast food job, where I was being constantly mistaken for an AI drive-thru window robot, by my friends as I told them overly animated stories, giving everyone involved their own unique voice, and for as long as I can remember by my mother, who has always said, "I just picture you being on TV or the radio." While I always brushed her off, I often felt the same way but was dissuaded by the impracticality of the dream.
It wasn't until my manager at Plat4orm mentioned our continuing education budget that I decided to dig deeper into the steps I could take to make this dream a reality. The first stop I made was at a voiceover training session with Such A Voice. Because the class was partially paid for by Plat4orm, I was able to alleviate some of the financial stress of dabbling in a new interest.
You might be thinking, "What does voiceover have to do with PR"?
Well, you'd be surprised how many skills overlap.
As PR professionals, we come to work and perform our day-to-day roles, rapidly switching from one client account to another. This balancing act is comparable to the many different roles a voice actor may be asked to assume in any given audition or, in my case, a vocal coaching session. At work and auditions alike, I have been trained to turn on a dime and embody or accomplish any role or task, no matter how abstract or last-minute.
I have found that getting stronger as a voice actor has pushed me to strive for more in other areas of my life – not only for myself, but for those around me as well. I feel the Such A Voice program has helped me grow in ways that will help me be a better teammate to my co-workers at Plat4orm, and here's how.
Time to Open Your Mouth
Imposter syndrome is a dreaded phenomenon that I think most people who are honest with themselves will admit they have experienced at least once in their lives. Coming to Plat4orm with no legal or technology background, I worried that I would never fully catch up with my superstar team of seasoned professionals. Although I did my fair share of studying our clients and got plenty of on-the-job training, I often felt like I wasn't as knowledgeable as I had the potential to be. In turn, I was less motivated to speak up when I had an idea because I doubted myself. Participating in the Such A Voice program helped me overcome this inhibition: we were all new and all sharing the same wacky goal, but we were embraced with open arms and encouraged to run boldly into the face of the unknown.
As I was tasked with giving my best voice for various household appliances like a refrigerator or a blender, I began to relax and enjoy the freedom of using my imagination and voice to express often abstract (and often very silly) ideas. Surprisingly, I discovered this newfound skill could be very useful in my day-to-day work – from drafting creative subject lines for science forward legal technology pitches to coming up with more out-of-the-box social media content for clients and for our agency internally. Relax and enjoy. I think back to my coach comforting me whenever I showed any sign of apprehension: "You know, the only time you really fail is when you don't try."
Social Media, Web Design and Branding
Aside from boosting my confidence through the use of voice and imagination, the Such A Voice program provided me with fundamental skills for promoting myself through a personal website and, specifically, curated social media. While learning these skills for voiceover, it occurred to me that managing a brand for myself is not much different from managing a brand for one of our clients. With both, you must identify research topics, conduct studies, analyze research findings, identify opportunities for the brand's growth, and…the list goes on.
Applying these daily skills in light of my new personal ambitions strengthened my understanding of branding basics and eventually helped me become adept at overseeing the entire process from start to finish. I also gained a newfound appreciation for keeping up to date on market trends. As anyone in the legal technology field can tell you, the landscape is ever-changing, and either you keep up or get left behind.
Marketing
As you can probably tell by now, I gained a lot from this experience: more practice in public speaking, a newfound charisma, and a deeper understanding of marketing functions were just the tip of the iceberg. It wasn't lost on me that becoming a voiceover talent meant I was now a business owner, but that didn't make it any less daunting.
Through the process of establishing a business, I gained more confidence in managing client relationships, a skill I need for both my PR work and voiceover. I had to put myself out there, which required me to strengthen my writing skills by creating blogs, articles, newsletters, and press releases as part of a strategy for large-scale promotion.
Any business – whether you are a solopreneur, a technology startup, or an industry-leading enterprise – needs marketing. Grasping this fact has challenged me to practice social media marketing on a more micro level in my voiceover career and find networking events to attend and opportunities to pursue. It wasn't long before I realized the financial side of business development like managing expenses, setting rates, and invoicing – all uncharted territory for me – was simply unavoidable. I was forced to learn better time management and goal setting skills and doing so helped me overcome the feeling that handling financial details was unachievable.
While I am still learning, the experience of "finding" and trusting my voice and launching a voiceover career has taught me tangible skills that I can apply to the business development and billing side of my work for Plat4orm.
With the help of the Plat4orm's continuing education budget, I have made myself proud by following my dream, and thanks to that, I now come to work every day with confidence, feeling like I can achieve anything, no matter what "role" I must play.