SITUATION
Casepoint, a technology company focused on the digital transformation of litigation discovery, has been an established vendor in the eDiscovery space for the last decade. The minority-owned company grew organically in that period, forgoing the option of external funding. Growing competition in the eDiscovery space prompted the company to evaluate its marketing strategy and seek out a strategic communications partner who could help amplify their share of voice in a crowded market.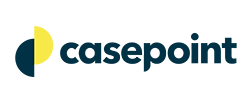 In a competitive pitch, Casepoint selected Plat4orm based on three core criteria: an in-depth knowledge of the complex technology behind eDiscovery, the strength of influencer relationships and a proven track record in mapping communications goals to business objectives.
STRATEGY
Plat4orm implemented a communications campaign which showcased Casepoint's thought leadership and customer-centric innovation. The team revamped the company's messaging to focus on demonstrating the benefits customers derived from using Casepoint's software and how it drove value for their businesses. Plat4orm also leveraged Casepoint's longevity in the marketplace to demonstrate the depth of knowledge that existed within the company. The team expanded the spokesperson bench, securing high-profile speaking opportunities, podcasts and article placements in a variety of publications, including: Legalweek 2020, LawNext, Bloomberg BNA, Thinking Like a Lawyer, Peer to Peer, Corporate Counsel and Inside Counsel.
Plat4orm also implemented a product review program, giving media and analysts the opportunity to experience Casepoint's next generation of litigation technology first-hand and hear about its vision for the future. The company's flagship products, Casepoint Platform and Casepoint eDiscovery, are the result of more than 10 years of innovation and are highly scalable, secure and configurable.
RESULTS
In 2019, Plat4orm secured 537 pieces of coverage for Casepoint, compared to 313 pieces the year before. This included coverage in Bloomberg Law, Federal Times, Law Technology Today, Above the Law, Law360 and Disruptor Daily. As the company's share of voice in the legal technology influencer space continues to grow, the Plat4orm team has expanded its reach to new audiences with a stronger focus on business and corporate-focused storytelling, securing coverage in Entrepreneur, Washington Exec, Washington Business Journal, and Yahoo! Finance.